Product Description:

The rotary dryer is mainly composed of a frame, a heat supply source, a loading machine, a feeding machine, a rotary drum, a material crushing device, a discharging machine, an induced draft fan, a discharger and a power distribution cabinet.

The rotary dryer is mainly used for drying more than 200 kinds of materials such as slime, limestone, river sand and clay. Widely used in sand and gravel yards, mining, coal mining, concrete mixing plants, dry mortar, power plant desulfurization, refractory materials, building materials and other industries. The equipment is simple and reliable to operate, so it is widely used.

Applied material : Rock, gravel, different kinds of ore, fireclay, slag and other hard materials.


Features:
●
1. The moisture is controllable;

●
2. Multi-channel intelligent anti-ignition;

●
3. Reliable fire handling equipment;

●
4. Coal & power saving, various heat sources can be used;

●
5. Full automatic control;

●
6. Pollution-free emission.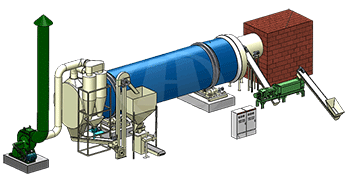 Service support:

- 48-hour idling test machine before leaving the factory.


- You can take the materials to the factory test machine.


- We will customize the solution according to your needs.