Product Description:

Hongji CS series cone crushers combine the rotating bowl with piston into one crusher. This patented Multi-Action technology translates to lower operating costs, high uptime and consistent high-quality output. CS Series cone crushers were built for decades of reliable service. The design was as simple as possible with features that were user friendly, CS series cone crushers are ideal for secondary, tertiary and quaternary stages in hard and soft rock applications. Mobile cone crusher available.

Applied material : Rock, gravel, different kinds of ore, fireclay, slag and other hard materials.


Features:
●
1. Continuous rotation of the operated cone body and high productivity.

●
2. Easy to press, impact and crush and low power consumption.

●
3. Even particle size of products and uniformly surface wear of movable cone.

●
4. Simple structure: frame, horizontal axis, movable cone, balance wheel, eccentric
bushing, upper crushing wall (fixed cone), down crushing wall (movable cone), fluid
coupling, lubrication system, hydraulic system, control system, etc.

●
5. The movable cone swings close to discharge opening of crushing cavity, which
intersects an equal parallel strip between them to make end products granularity.
The feed opening is not large, which can deal with the primary crushed materials.

●
6. This kind of cone crusher adopts dry oil and water sealing avoiding dust entering
and keeping clean.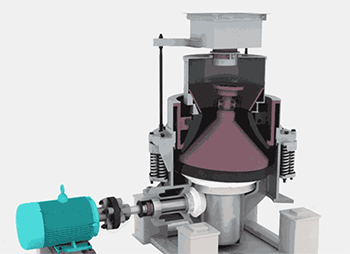 Service support:

- 48-hour idling test machine before leaving the factory.


- You can take the materials to the factory test machine.


- We will customize the solution according to your needs.