Product Description:

The mobile cone crushers are designed for mobile secondary and tertiary crushing,can be used to meet the diversified high-quality, high-volume production requirements of customers. It can be used to crush more than 200 kinds of materials, such as granite, quartz, limestone, concrete, gold ore, iron ore, coal, construction waste and so on.

The mobile cone crushers have a wide range of applications, such as mining ore crushing, construction waste recycling, building aggregate production, urban infrastructure, railways, road and bridge construction and other industries.

Applied material : Rock, gravel, different kinds of ore, fireclay, slag and other hard materials.


Features:
●
1. Move easily. It can go to the crushing place directly. It can move not only on the smooth
road,but also on the bumpy road.

●
2. Compact structure and simple operation. Integrative equipment group with trailer save
the working area.

●
3. With generator, motor and control box on the trailer, it can work outdoor easily.
Equipped with supporting facilities, it can be installed quickly and conveniently.

●
4. Save the cost. By crushing the materials on site, the transportation cost is reduced.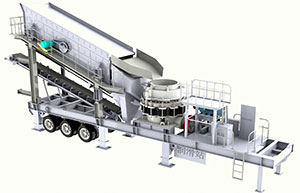 Service support:

- 48-hour idling test machine before leaving the factory.


- You can take the materials to the factory test machine.


- We will customize the solution according to your needs.