Product Description:

Hongji's impact crushers feature a unique combination of heavy rotor design, materials selected for good wear resistance and crusher chamber design. This combination has proven revolutionary in improving capacity and product quality and in reducing operating and wear costs. The size of the discharge material can be adjusted, and the crushing specifications are diversified. The impact crushers deliver unbeatable performances in primary, secondary, tertiary and recycling applications.

Applied material : limestone, granite, cobble, dolomite, bluestone, iron ore, construction waste, glass, cement clinker, etc.


Features:
●
1. The shape of crushed material will increasingly become cubic.

●
2. Crushing ratio can be set at an extremely large value: normally at 20 and
maximum up to 80.

●
3. The high crushing efficiency reduces the power consumption.

●
4. Lighter in machine weight as against capacity, saving installation cost.

●
5. A high crushing efficiency reduces the power consumption.

●
6. The rotor is made of high-carbon steel casting, and has wedge-shape hammer
holding grooves extending parallel to the shaft.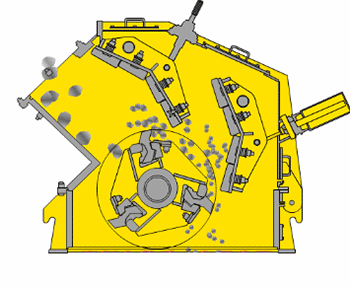 Service support:

- 48-hour idling test machine before leaving the factory.


- You can take the materials to the factory test machine.


- We will customize the solution according to your needs.