Product Description:

Rotary Kiln belongs to building material equipment, according to different materials, which can be divided into cement kiln, metallurgy chemical kiln and lime kiln. Cement kiln is used for making cement clinker and there are dry and wet methods to make cement clinker. Metallurgy chemical kiln is widely used for magnetic roasting of poor iron ore and oxidizing roasting of chrome and nickel in the steel factory; backing high-alumina mine in the refractory material factory; baking chamotte and alumina in the aluminum factory and baking chrome ore and chrome powder in the chemical plant.

Applied material :The Lime Kiln is used for roasting active lime in steel works and ferroalloy plants and light roasting dolomite, and ceramic proppant rotary kiln so on.

Features:
●
1. Good calcination, high product quality;

●
2. High capacity;

●
3. Simple structure, reliable performance;

●
4. Easy operation.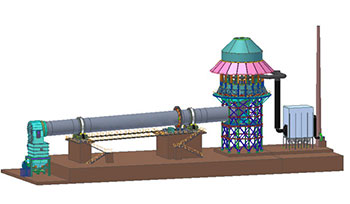 Service support:

- 48-hour idling test machine before leaving the factory.


- You can take the materials to the factory test machine.


- We will customize the solution according to your needs.